Feng Shui



Feng Shui Consultant and Feng Shui Master TY Tan from Malaysia
offers Feng Shui consultancy, Feng Shui seminar and Feng Shui courses

The No. 1 Feng Shui Training & Consulting Centre

Home Feng Shui eBook Feng Shui Consultation Feng Shui Course

About Feng Shui Seminar Feng Shui Tips Policy

Due to the pandemic we have stopped conducting live Feng Shui course. We have developed online correspondence courses. The online course syllabus is the same as the live classes that was conducted since 2005. Basic Feng Shui correspondence course is already available. Currently, we are preparing the material for Advanced Feng Shui correspondence course to include characteristic of stars and changes in Period 9. The Advanced Feng Shui correspondence course will be launched on the 10th February 2022 at 4.30 pm. We are currently offering special pre-launch price for the course. Click here for more information.


Are you ready for Period 9?

The Flying star (Xuan Kong Fei Xing) will be changing their influence on us. We are currently living in Period 8 which will end on 4th February 2024. Thereafter, Period 9 will begin. The shift does not happen overnight on the 4th February 2024. The change in influence has already begun. Itís a phasing in of waxing and waning of the characteristic of Qi. Read more.



Feng Shui course
Site Selection


Feng Shui course
Site Selection



Feng Shui Course
House Audit


Feng Shui Course
Apartment Audit


Dear Brothers & Sisters into the Dhamma,

I am very lucky to have a very good lecturer of Feng Shui. Absolute, from beginning until the end of class, I followed and I was happy with Master explanation. I was very happy with the Basic & Advanced Feng Shui course.

Thank you very much to our Master.



........... Ven. Eh Sau Cha Cham, Thailand

Feng Shui Student, Malaysia.
The feng shui courses is a no nonsense intensive class and gives you the tools to be able to apply to our life rather than too much dwelling on theoretical literature.

Practical is my choice of word to express.

Master Tan give a lot of examples and put in simple terms to explain. He is very patient in explaining.

I would recommend anyone interested to learn from Master Tan because you get more than what you pay for.

..... AC, Shah Alam, Malaysia

2022 Feng Shui Tips

Annually, all of us have to be aware of the location of the three afflictions in Feng Shui i.e. the location of the Tai Sui, 5 Yellow and 3 killings. These 3 locations are occupied by killing or harmful qi (energy). Any disturbance within these afflicted sectors will bring bad luck, sickness and loss to the residents of the building. By disturbance we mean vibration of the wall or the floor caused by renovation such as digging, knocking or drilling.

Buildings act as virtual mountain


For exterior feng shui,

buildings are virtual mountains while roads and highways are modern equivalent of rivers i.e. virtual rivers. Hence, buildings and roads influence the feng shui of a space or your business premise.

Road as virtual river
Road acts as river and vehicles acts as water.

Cities have qi movement and qi reflection that are chaotic and unpredictable as more buildings and roads are built. Traffic flows are re-planed and diverted regularly.

These add to changes in qi flow and qi settlement, hence making external feng shui change frequently which resulted in rise and fall of business organisations.


Business Feng Shui



Increase Your Concentration, Productivity, Prosperity and Abundance.

Business Feng Shui for business premises such as corporate offices, small offices, retail stores, shops or factories.

Would you like your business to be more prosperous, making profit and no cashflow problem?

Would you like a more harmonious work environment that supports you and the people you work with?

How to increase your concentration and productivity in work?

What to do when your staffs do not get along?

Business feng shui formula is different from residential feng shui formula. In business feng shui, the focus is on 'yang' Qi. The use of 'yin' Qi is not applicable. It is 'yang' Qi management and the use of 'yang' Qi in business processes to attain high efficiency and effectiveness.


Water Feng Shui - Water Dragon for Wealth Luck

In feng shui, having a correctly located natural water form is the most powerful feature that can enhance income and wealth. I would like to elaborate on the various types of exterior natural water form.

When there is an absence of exterior natural water form, the exterior artificial water form could be created to activate wealth luck.

Note that the natural water is superior to artificially created water.

Water Feng Shui - The Wealth Spot

The water mouth, which is also known as the wealth spot is the location within the entire water form which is the most vibrant. Activating the water mouth is the most powerful feng shui secret for wealth and income enhancement.

To have a water feature that brings amazing wealth luck, we have to work on the Ba Gua, 24 mountains of Fei Xin and 64 hexagrams Da Gua fengshui formula to locate the Water mouth (Wealth Spot).

If an auspicious timing and day is selected to activate the water feature, the Chinese called it activating the Water Dragon, the effect, intensity and quantum of wealth luck is going to be tremendous.

Feng Shui Consultant and Master Trainer, TY Tan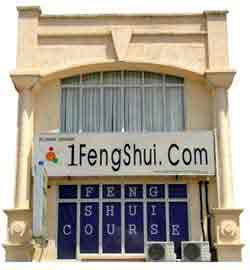 1FengShui.com
The No. 1 Feng Shui Training & Consulting Centre

Malaysia.

Tel: 018-38 128 38 (WhatsApp)



Disclaimer
Feng Shui is an ancient wisdom handed down by our ancestors and it is a living skill in use throughout the Orient for many centuries. To the best of our knowledge, all information on this website are sincere representation of the subject and makes no claim for absolute effectiveness.
The adoption and application of the advice or information offered is solely the readers' responsibility. 1FengShui.com and its Associates are not responsible or liable in any manner for any loss or damages caused by following the suggestions in our articles and services.

Copyright © All Rights Reserved. No portion of this site may be reproduced in any way without the permission of 1FengShui.com of Malaysia

Feng Shui is also spelled as fengshui, fengsui, feng sui, fong shui, fung shui, or feng shway because of the many dialects in Chinese society.